Lt Col (Retd) HS Bedi, VSM, CMD Tulip IT Services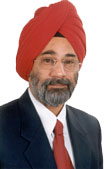 Lt Col (Retd) HS Bedi, VSM, founded Tulip IT Services, today a Rs 2300 crore company by market capitalisation, in Nov 1992, after serving in the Armoured Corps of the Indian Army for more than 20 years. Tulip has grown rapidly, with sales jumping 92% this year.
A leading provider of network integration and end-to-end data connectivity services, Tulip IT Services offers an unparalleled MPLS based network, offering wireless based Last-Mile connectivity in 550 cities in India.
Col Bedi also led the company to a very successful IPO (BSE/NSE: TULIP) in end 2005.
We will take the liberty to highlight a fact that Col Bedi - a very modest person - will never mention; he also happens to be a self-made billionaire. His financial net worth was estimated at Rs 1042 crores, as of 31 Dec 2006.
Meet him and ask all the questions you have in your mind, and also meet other fellow officers who have been equally successful in their second careers, on 01 July at Kota House Naval Officers' Mess, New Delhi.
To confirm attendance call Subhash at 98-103-11040 or Rajneesh at 98-688-94771.
You can also confirm through email at delhi.event@bandofbrothers.in (providing your Name/Rank/Unit/ Company/Mobile/Email)